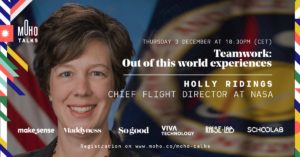 We are over the moon to invite you to the next MoHo Talk, with our guest, the exceptional Holly Ridings, NASA 's Chief Flight Director!
Holly is only the twelfth person and the first woman to hold this position. She was the brains behind the first SpaceX Dragon mission to the International Space Station held recently. It is also Holly who will lead the Artemis expedition in 2024 to land the first woman and the next man on the Moon. An incredible background, which we look forward to discovering with you during this intergalactic MoHo Talk.
Together with Holly we will discuss the theme of teamwork, through her extraordinary and varied experiences. Holly will share with us her journey and the space missions she has been able to carry out with NASA, which will no doubt inspire us to help manage our teams remotely.
REPLAY : HERE!